Sloppy Joes!
Click here for a PDF print version!
Almost everyone remembers Sloppy Joe's from childhood!
Here's how to make this popular comfort food so it tastes great and is very healthy, too!
Using ground turkey, you can make fantastic tasting Sloppy Joes that fits with most diets. It freezes very well!
Total time: 30 minutes
Yield: about 8 buns per 2 lb of meath
Easy to make!
Ingredients
Per 2 lbs (or per 1 kg) of meat:
1 medium sweet onion,
finely diced
1 teaspoons extra virgin olive oil
(or the oil of your choice)
2 lbs ground turkey,
or ground chicken and/or ground beef
2 (14-ounce) cans tomato sauce
1 six-ounce can of tomato paste
1/8 cup vinegar,
either apple cider, red wine or plain white, as you prefer
1/4 cup Worcestershire sauce
1 teaspoon ground black pepper
1/2 tablespoon ground dry mustard
1/8 cup sugar, stevia, splenda, agave or other sweetener.
Taste before you add it, you may find the tomato sauce adds enough natural sweetness.
Equipment
Cutting board, knife,
Spatulas, large spoons, measuring spoons/cups
1 large cooking pot
Directions
Step 1 - Brown the ground turkey, chicken or beef
Put 2 tablespoons of vegetable oil in a large non-stick pot.
Heat over medium-high heat, and before the oil starts to smoke or burn, add the meat
Brown the meat until there is no pink remaining. This will take about 10 minutes.
Step 2 - Dice the onion and add it to the meat
While it is browning, dice the onions
and you can either brown them separately or in with the meat.
Stir the meat about every minute.
Step 3 - Drain the fat from the meat/onions
Drain the liquids from the browned meat and onions.
Then add the tomato sauce, diced tomatoes, tomato paste and seasoning.

Step 4 - Add the tomato sauce and tomato paste and other ingredients
Add the tomato sauce, diced tomatoes, tomato paste and seasoning. Stir!

Step 5 – Simmer for 15 minutes
That's all just simmer over low heat to mix the flavors. You can taste it and tweak it as it cooks!
It will be searing hot.
Don't even think of eating it yet.
Let it rest on the counter for 5 minutes.
Plus, the 5 minutes helps it to firm up!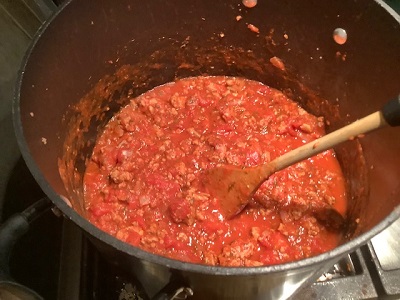 Step 6 – Server on warm buns
Whatever type of buns you prefer; whole wheat, white, gluten -free, just warm them a bit and add the meat!

Enjoy!